Welcome To The
Economic Development
Partnership of Alabama
The EDPA is a private non-profit organization funded by more than 60 Alabama companies, whose mission is to attract and retain world-class talent across a broad spectrum of interests and industries, support and inspire both industry and innovative/emerging companies whether home-grown or transplanted, expand existing businesses, and be the trusted source for data and insights for key economic drivers and stakeholders for Alabama economic development.
EDPA is a private, non-profit organization supported by more than 60 Corporate Partners. EDPA is governed by a board of directors comprised of the state's top business leaders committed to the economic growth of Alabama. We're a team of Alabama Executives supporting workforce development, emerging businesses and community development initiatives.
EDPA is the private sector's means for contributing to Alabama's economic development success. Our unique structure allows us to work closely with state, regional, corporate and local organizations. In addtion, we help innovative startups and entrepreneurs Start, Stay and Grow in Alabama through Alabama Launchpad, which is a program of the Economic Development Partnership of Alabama Foundation.
Throughout our history, EDPA has been a catalyst behind collaborative efforts to address key issues important to Alabama's competitiveness. EDPA has led or participated in partnerships for workforce development, technology transfer, existing industry support and technology-driven economic development.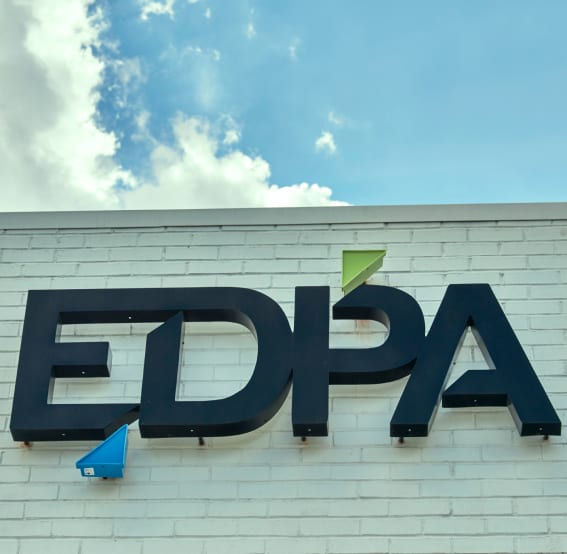 Our mission is to make Alabama more competitive, more supportive of established and emerging businesses, and more appealing to those looking for the perfect place to build their business. Programs like Alabama Launchpad, the most active private seed funding entity in the state, and iMerge, our popular annual innovation and inspiration event helps cultivate one of the most dynamic business cultures in the country. AdvantageSite is a quick and easy tool to help businesses choose the ideal location.
EDPA was formed in 1991 by business leaders who saw a need and shared a vision to make Alabama compete more effectively for major economic development projects on a global stage . The Partnership has been a key player in attracting companies such as Mercedes-Benz, Boeing, Honda, Thyssenkrupp, ArcelorMittal/Outokumpu, Hyundai and Airbus to Alabama. EDPA has joined with state and local officials on hundreds of projects, both large and small, that have added thousands of jobs and millions of dollars to Alabama's economic base. EDPA has led efforts to market Alabama as an automotive and aerospace leader, while also working to attract investment in every industry.