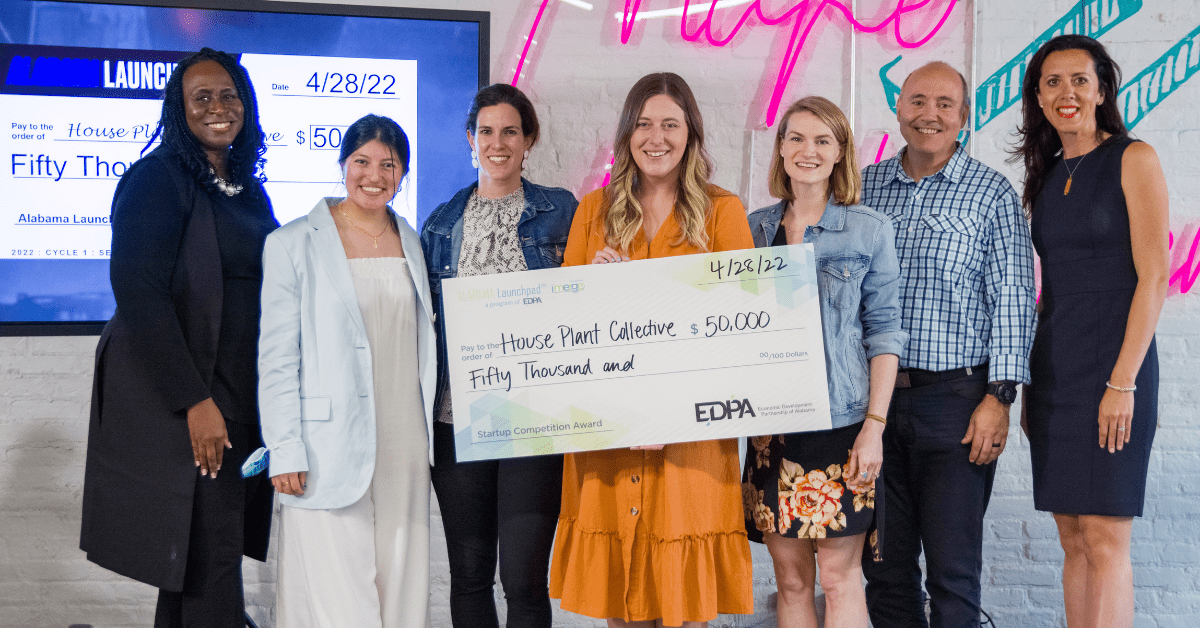 CROUX and House Plant Collective win a combined $75,000 at Alabama Launchpad's Cycle 1 2022 Finale
Apr 29, 2022
MOBILE, Ala. (April 29, 2022) – Two startup companies competed among nine finalist companies to earn a combined $75,000 in non-dilutive funding in the Alabama Launchpad Cycle 1 2022 Finale. The Economic Development Partnership of Alabama (EDPA) hosted the finale in-person, at the Innovation Portal of Mobile, from 5-7 p.m., on Thursday, April 28, 2022.
CROUX claimed $25,000, winning the concept-stage competition. The CROUX helps restaurant owners connect with talent looking for new or flexible employment opportunities, based on their unique schedules.
"The Alabama Launchpad prize money is game-changing for CROUX," stated Jennifer Ryan, co-founder of CROUX. "It allows us to accelerate the growth and to launch in Birmingham, our flagship market. The World Games are coming to Birmingham, while there are terribly under-staffed restaurants, bars, hotels and event venues that are in desperate need of people. We also know that the talent is seeking flexible work opportunities. We are bringing the two worlds together, ahead of a really big event in Birmingham. The funds allow us to do that faster, more thoughtfully and build the platform as tightly as we can."
House Plant Collective, winner of the early-seed stage prize of $50,000, is focused on connecting a community of plant enthusiasts and providing consumers with the necessary education to maintain healthy, thriving plants.
"The entire Launchpad process has been so helpful for us," stated Jessica Watts, owner of House Plant Collective. "Meeting with consultants and participating alongside thought leaders, while looking toward the next opportunity, has allowed us to consider new shop locations and affords us the opportunity to build out our team moving forward."
Each finalist company received premier mentorship, through both one-on-one and group session training with Launch Advisors, to prepare for the ultimate finale judging panels.
The concept-stage companies were evaluated by three judges: Corey James, Program Director of The Idea Village; Chris Comeaux, VP of Engineering Infrastructure at Shipt; and Mike Ozburn, CIO of SwyftFiber.
The seed-stage competition included a panel of three judges: Valencia Belle, Founder and CEO of SCHOOLS, a standardized test prep startup; Christina McInnis, CEO of AgriTech Corp.; and Dan Pahos, Franchise Owner of Home Instead Senior Care.
"Places like Alabama Launchpad truly do give entrepreneurs the opportunity to grow and to scale," Belle said. "So many businesses start and don't have that scaffolding and support to help them go from concept, to creation, to actual launch. Alabama Launchpad affords startups the ability to be connected with a great group of professionals, so you don't have to pay or buy experiences… But at Alabama Launchpad you're meeting living examples of people who are doing great things, who can steer you with that one little piece of advice that can make your company go from $100 or $200 a month to $89,000 a month. That's what launchpads are, that's where rockets start."
Cycle 1 2022 brings Alabama Launchpad to new milestones – it has now funded 108 Alabama startups since its inception in 2006. Over the past 16 years, Alabama Launchpad has awarded over $5.8 million in non-dilutive funding to the winning companies, which today have an estimated combined post-money valuation of more than $850 million and employ more than 1,120 people.
The Alabama Launchpad program has funded growing companies like BLOX, Gene Capture, Acclinate Genetics, and more by offering non-dilutive prize money for its pitch competition. The EDPA is a private, nonprofit organization that supports business recruitment and expansion efforts in Alabama and promotes innovative and emerging startup companies through its Alabama Launchpad program.
After two years of virtual pitch competition, Alabama Launchpad's Cycle 1 2022 finalists were able to deliver presentations in-person, while the competition also streamed live online. To view the recorded finale, please visit alabamalaunchpad.com.
About Alabama Launchpad
Established in 2006, Alabama Launchpad is Alabama's most active, early-stage seed fund investor, driving innovation and job growth through startup competitions and ongoing mentoring for Alabama entrepreneurs. Alabama Launchpad is made possible by the generous support from the Alabama Department of Economic and Community Affairs, the Alabama Department of Commerce, Blue Cross and Blue Shield Caring Foundation, Wells Fargo, Alabama Power and the Daniel Corporation Foundation. It is the state's longest running business plan and pitch competition. Over the past 16 years, Alabama Launchpad has invested over $5.8 million into 108 Alabama startups. The winning startup companies have generated over 1,120 jobs for the state and have a combined post-money valuation of over $850 million.
###
Learn more about the
Industry in Alabama
Subscribe To Our Newsletter