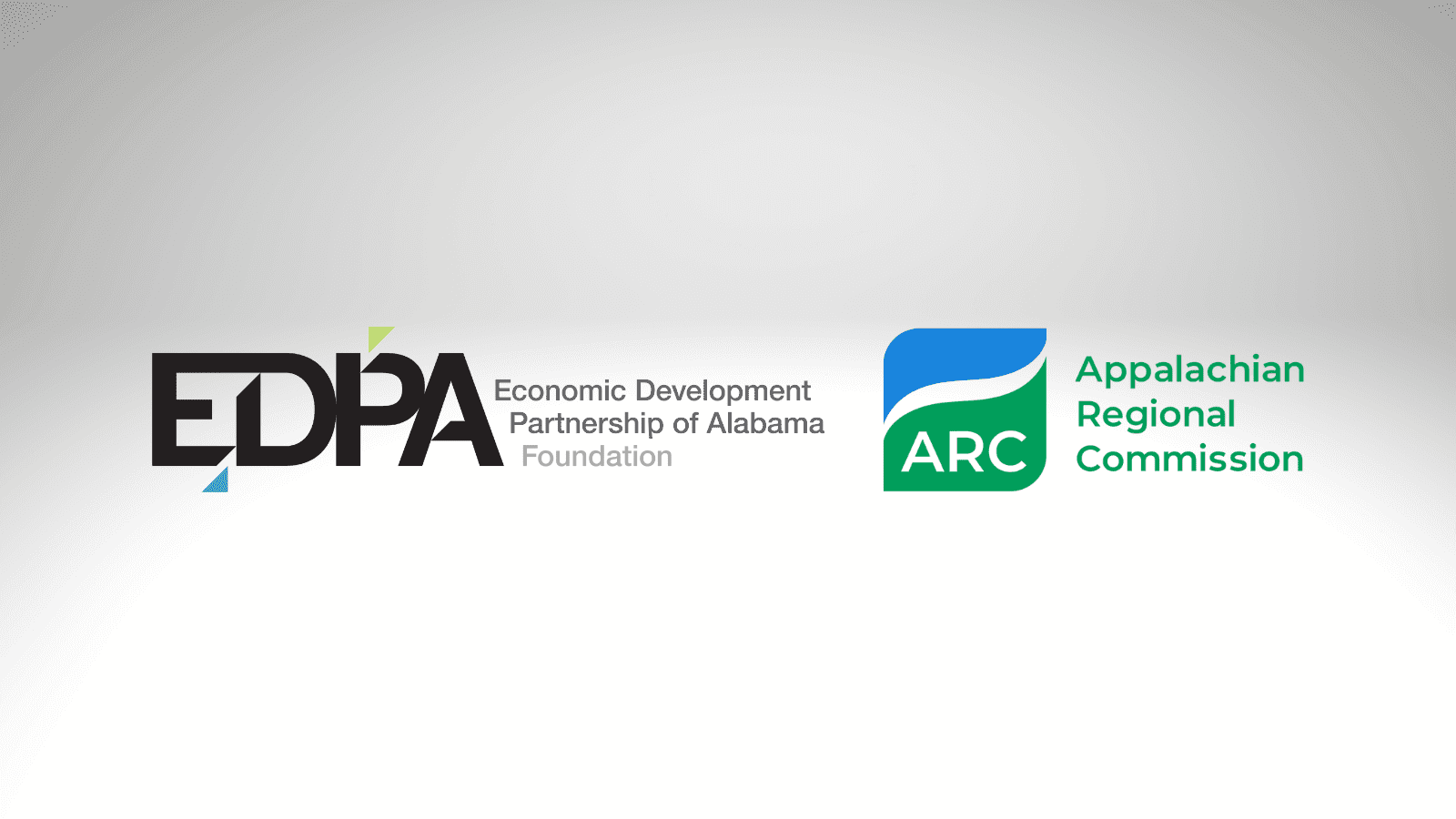 Economic Development Partnership of Alabama Foundation Receives Federal Funding to Support Entrepreneurship Work
Jun 12, 2023
BIRMINGHAM, Ala. (Monday, June 12, 2023) – The Economic Development Partnership of Alabama Foundation (EDPAF) has received three federal grants totaling $305,763 to accelerate the growth of entrepreneurship in the state. The grants, awarded by Appalachian Regional Commission (ARC), which covers 37 counties in Alabama, will facilitate three different programs: Entrepreneurship 101 Workshops, Alabama Launchpad Mentorship, and HBCU Internships. Each of these programs serves to strengthen the state's startups by addressing gaps in the ecosystem. 
Existing EDPAF programming has revealed that many would-be entrepreneurs outside of the state's major metro areas don't have the foundation for building a company or know where to find resources to help. New programming, Entrepreneurship 101 workshops, will start filling that gap in three communities, with aims to grow statewide.
 
Like many states, Alabama struggles to retain top talent graduating from its colleges and universities – notably including its HBCUs, in a state with more HBCUs than any other. Meanwhile, early-stage companies in the state struggle to find the talent they need, which often drives them to move elsewhere. With this ARC funding, EDPAF will begin an internship program designed to place talented HBCU students squarely in the middle of the startup ecosystem, working for accelerators and the companies that go through those programs. 
And lastly, entrepreneurs throughout the state have looked to Alabama Launchpad for funding and feedback for 16 years, but over the past three years, the program has increased its focus on mentorship. Part of this ARC funding will allow EDPAF to continue offering finalists robust mentorship across several areas of their startups, including sales, marketing, finance, hiring, and more.
 
"The EDPA Foundation has been supporting the entrepreneurial ecosystem for nearly 20 years, and this funding from the Appalachian Regional Commission allows us to continue, and build upon, that work," said Miller Girvin, President of the EDPA Foundation. "We are excited to see how businesses, entrepreneurs, and talent will grow across Alabama through these programs." 
Details about each program below: 
Entrepreneurship 101 Workshops 
This programming seeks to meet innovators in rural communities where they are: right at the beginning. EDPAF and its partner organizations will identify, initiate, and nurture talent in three Appalachian Alabama counties to create and sustain an active tech startup sector by providing Entrepreneurship 101 workshops, conducted by experts in the field. Workshops will cover content like how to conduct customer discovery, where to find resources that support entrepreneurs, and how to find a problem that supports the creation of a business to solve it. 
The programming will be delivered in three (3) different ARC counties (Etowah, Macon, and Morgan) across five (5) half-day workshops. This initiative will help build a talent pipeline for entrepreneurs positioned to launch and sustain new ventures in a region that has historically lacked a strong startup economy.
 
HBCU Internships 
This project responds to two significant challenges for innovation in the state of Alabama: 1) Alabama struggles to retain talent, with high numbers of college graduates seeking employment and postgraduate opportunities outside the state, and 2) Alabama's innovation economy has not grown at levels comparable to other states in the Southeast. The impact this investment can have on high-wage employment opportunities and knowledge-based talent attraction is critical to ensuring the state has a resilient, inclusive, and robust economy.  
By creating a new competitive pilot internship program to place HBCU students with startups, innovation hubs, and accelerators, EDPAF is connecting young talent with experienced professionals, to strengthen the existing talent pipeline for Alabama's tech startup/innovation economy. Ideally, not only will graduates be more inclined to stay and work in Alabama, but they will also eventually start companies of their own. 
Alabama Launchpad Mentorship 
This grant will allow EDPAF to fund the participation and mentorship for 16 Alabama Launchpad finalists from Jefferson County. The program ensures all participants receive intense mentorship over several weeks, so they are better positioned for growth, investment, and long-term sustainability. Jefferson County comprises the majority of Alabama Launchpad applicants and finalists, and this funding will cover their mentorship, including 11 hours of group workshops, and up to 21 hours of one-on-one sessions with Launch Advisors covering a variety of specific subjects. The cohort experience will conclude with a juried pitch competition where non-dilutive funding will be awarded to concept and early-seed stage companies. 
About ARC: The Appalachian Regional Commission (ARC) is an economic development agency of the federal government and 13 state governments focusing on 423 counties across the Appalachian region. ARC's mission is to innovate, partner, and invest to build community capacity and strengthen economic growth in Appalachia and help the region achieve socioeconomic parity with the nation. More information is available at www.arc.gov. 
About Economic Development Partnership of Alabama Foundation 
The EDPA Foundation (EDPAF) is a wholly owned 501(c)3 of the EDPA, a private, nonprofit organization, supported by more than 60 Corporate Partners. EDPA is governed by a board of directors comprised of the state's top business leaders, who are committed to the economic growth of Alabama. It supports economic development research, workforce development, talent retention and attraction, innovation and entrepreneurship, policy, lead generation and emerging businesses and community development initiatives. EDPA is the private sector's means for contributing to Alabama's economic development success, with a unique structure that allows it to work closely with state, regional, corporate and local organizations. The EDPAF helps innovative startups and entrepreneurs start, stay and grow in Alabama through Alabama Launchpad, a statewide business plan competition. Other programming, as part of EDPAF's focus on talent, includes ALEX: The Alabama Experience and FuelAL. 
###
Learn more about the
Industry in Alabama
Subscribe To Our Newsletter