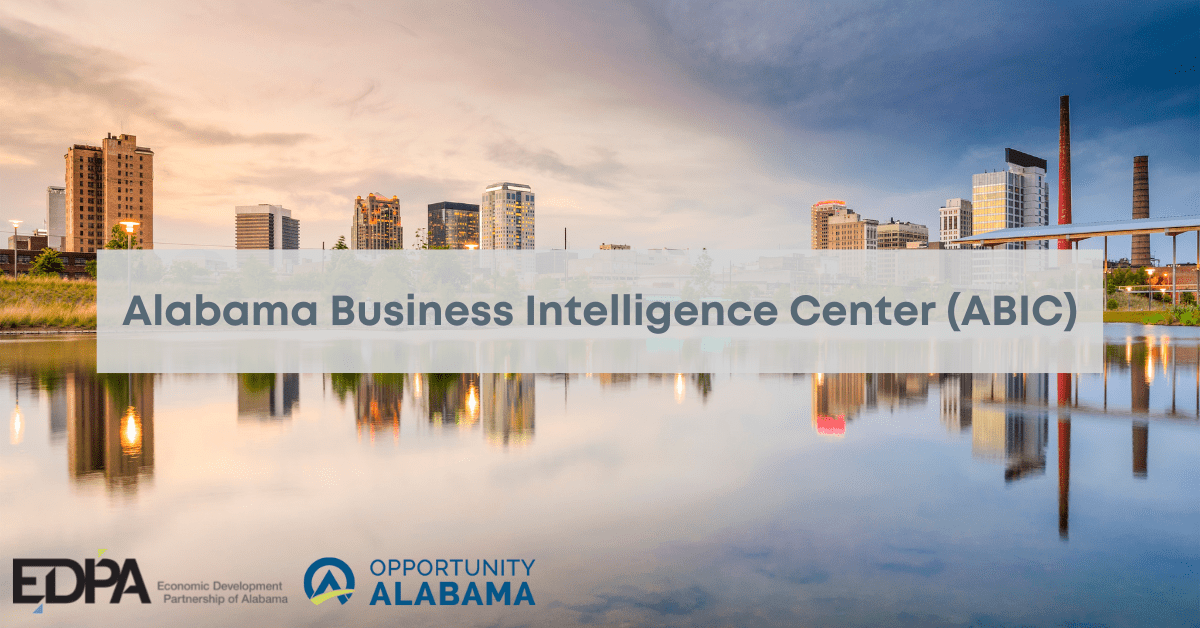 EDPA Announces the Newly Launched Alabama Business Intelligence Center (ABIC)
Jul 25, 2022
BIRMINGHAM, Ala. (July 25, 2022) – The Economic Development Partnership of Alabama (EDPA) announced the newly established Alabama Business Intelligence Center (ABIC), today at the Economic Development Association of Alabama (EDAA) Conference in Point Clear, Alabama. The Alabama Business Intelligence Center generates actionable data insights for the recruitment and retention of Alabama businesses. Its initial areas of focus include industries, companies and executives that align with Alabama's value proposition.
ABIC exists to increase business development leads, strengthen partnerships through intelligence and resources, collaborate with allies and partners to unlock insights from the combination of quantitative and qualitative information, and position Alabama as a partner for business growth and investment. The Center envisions being a thought-leader on Alabama business and industry trends. It will augment EDPA's partners' current work and further position Alabama's value proposition.
According to Greg Barker, President of the EDPA, the Alabama Business Intelligence Center is the first comprehensive, statewide research hub of its kind. It proactively mitigates risk and identifies opportunities for targeted business growth and development with the goal of securing new investment throughout the state.
"Every business sector is increasingly dependent upon quality business intelligence to develop actionable strategies," Barker said. "Economic development is not any different, and I am completely confident that the Alabama Business Intelligence Center will be able to provide the needed business intelligence so Alabama can continue to build on its economic development success."
Lauren Hyde serves as the first Executive Director of the Alabama Business Intelligence Center. Hyde offers expertise through an investment lens, as a CFA® charterholder – well-versed in public and private company research.
"Success for the Alabama Business Intelligence Center looks like success for our partners," Hyde stated. "ABIC will utilize a risk-return framework of thinking when analyzing opportunities. We are committed to long-term investment in Alabama. It's not just dollars, incentives or time. It's jobs and infrastructure. And we're here to generate the actionable data insights needed to encourage this investment."
The Alabama Business Intelligence Center will work with the EDPA business development team and partners to execute projects for lead generation across the state. Additionally, ABIC will serve as a resource to the Alabama Department of Commerce – the State's economic development leader.
ABIC will also support Opportunity Alabama and its statewide partners to generate data-informed interventions to build economic resilience in underserved communities, as they recover from the impacts of COVID-19.
According to Alex Flachsbart, Founder and CEO of Opportunity Alabama, ABIC will be a critical partner in the implementation of this initiative, which is funded by a CARES Act Recovery Assistance grant received in 2021 from the U.S. Economic Development Administration.
"In order to execute substantive, place-based strategic interventions, we need to understand local communities in a data-driven way, and ABIC will allow us to do just that," stated Flachsbart. "We are fortunate to have someone of Lauren's caliber providing actionable business intelligence statewide and grateful to the Economic Development Administration for supporting this effort."
For more information on the Alabama Business Intelligence Center, please visit http://www.ALbicenter.org/.
About Economic Development Partnership of Alabama
EDPA is a private, non-profit organization supported by more than 60 Corporate Partners. EDPA is governed by a board of directors comprised of the state's top business leaders committed to the economic growth of Alabama. We're a team of Alabama Executives supporting workforce development, emerging businesses and community development initiatives. EDPA is the private sector's means for contributing to Alabama's economic development success. Our unique structure allows us to work closely with state, regional, corporate and local organizations. In addition, we help innovative startups and entrepreneurs Start, Stay and Grow in Alabama through Alabama Launchpad, which is a program of the Economic Development Partnership of Alabama Foundation. For more information on EDPA, please visit www.edpa.org.
About Opportunity Alabama
Founded in 2018, Opportunity Alabama (OPAL) is a statewide nonprofit organization that is the catalyst for investment in meaningful projects and underserved places. Cited as a national leader in OZ-based economic development by Forbes Magazine and the New York Times, OPAL has attracted $4M in national philanthropy and federal funding since its inception. In 2021, OPAL raised its first commercial real estate investment vehicle (the OPAL Fund), a nearly $19M Qualified Opportunity Fund, which the organization is now deploying as equity for impactful projects across the state. Through technical assistance and direct investment, OPAL has supported more than 25 real estate deals, which have secured $600M in new investment in the state. For more information on OPAL, please visit www.opportunityalabama.com.
###
EDPA Media Contact:
Audrey Ferguson
Phone: 812-760-1343
Email: aferguson@edpa.org
Opportunity Alabama Media Contact:
Meri Margaret Fank
Phone: 334-221-0217
Learn more about the
Industry in Alabama
Subscribe To Our Newsletter