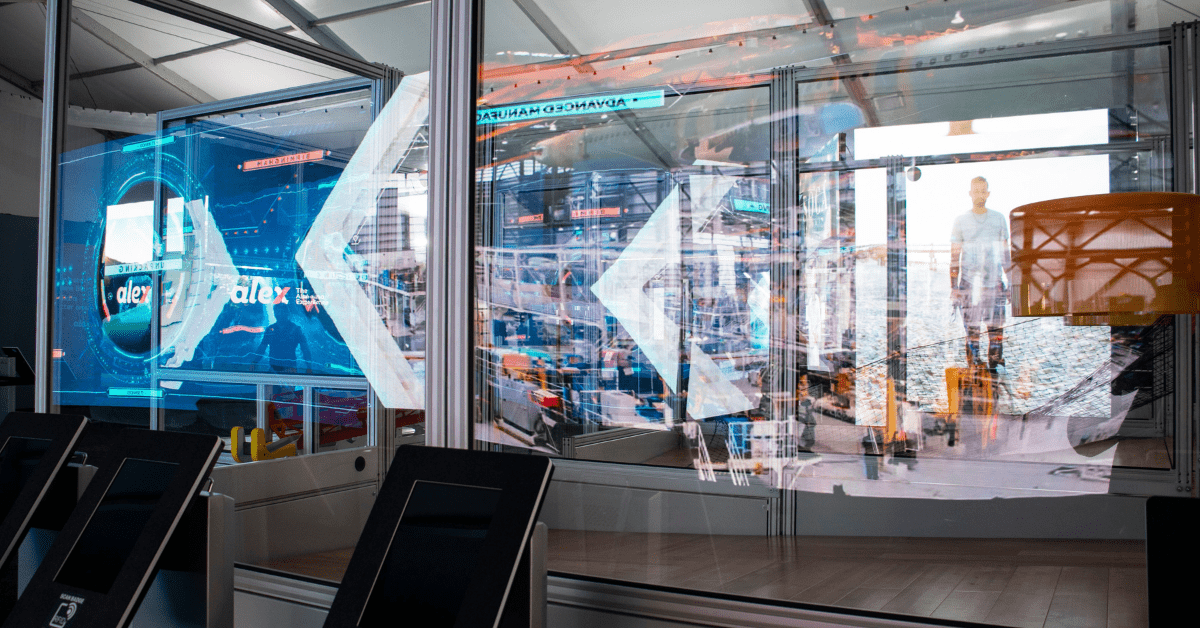 Meet ALEX: The Alabama Experience
Jul 6, 2022
BIRMINGHAM, Ala. (July 6, 2022) – ALEX: The Alabama Experience is a mobile exhibit, featuring a collection of interactive kiosks and informational pieces, as well as a knowledgeable staff who walks visitors through every aspect of life in Alabama. An immersive, first-hand experience, ALEX is the personification of Alabama through technology, powered by Atlas RFID Solutions, and it offers visitors an inside look at careers, educational opportunities and unique lifestyle available within the state. Meet ALEX: The Alabama Experience, premiering at The Regions World Games Plaza, on July 7-17, 2022.
ALEX is not a job fair, but it offers individuals the ability to travel through a virtual reality experience to encounter the amenities and advantages of life in Alabama – from work to play, to costs of living. It showcases innovation of the state through industrial, interactive robots playing Korfball, motion capture suites displaying athletic movement, Alabama's seven, diverse workforce regions and more.
For individuals interested in finding work within Alabama, there will be an option to be matched to specific industries and introduced electronically to the proper representatives. Visitors will be exposed to 189 different career paths in the state.
Mike Oatridge, Founder and Coordinator of ALEX: The Alabama Experience, has developed ALEX in efforts to promote the positive features throughout the state and overall impact of work-life balance in Alabama.
"The World Games is a fantastic venue for The Alabama Experience or ALEX to showcase all that Alabama has to offer. We'll have about 500,000 people coming to watch the games and participants from over 100 different countries," said Oatridge. "By focusing on information technology, advanced manufacturing and health sciences jobs, we are going to be affecting about 40% of the unfilled jobs in the state and really focusing on the salaries available for people, but then show people what that value is within the state. Our cost of living is phenomenal, and the overall lifestyle in Alabama convinces you to never leave."
The Alabama Community College System, a presenting sponsor of ALEX, will host representatives from among Alabama's 24 community and technical colleges to discuss with participants the opportunities they can access through their local community colleges.
"We want everyone who visits ALEX to know that our community colleges are the affordable pathway to quality education and training that lead to great careers and a better quality of life," said Jimmy H. Baker, Chancellor of the Alabama Community College System.
"From rapid training credentials for in-demand jobs all the way to associate degrees and college transfer options, we are the most affordable and accessible education and training option there is. With people visiting The World Games from all over the state, and with many of our students and alumni participating in various capacities at the many events at The World Games, The Alabama Experience is a prime opportunity for us to deliver our message and tell our story."
Atlas RFID Solutions serves as the Technical User Experience Coordinator to provide planning, services and hardware required to deliver a kiosk-based career interaction showcase.
"The Atlas Solutions team is thrilled to be involved with The World Games," stated Matt Pears, Director of Solutions for Atlas RFID Solutions. "Specifically, Atlas is leading the application development and responsible for the visitor's complete interactive experience at ALEX. This particular project includes elements that have interactive, RFID hardware, software development and other professional services required to facilitate the project's success. Atlas' ability to provide these wide-ranging services, and the fact that the project location is in our backyard, makes this partnership between EDPA/Mike a great fit."
Major sponsors include Alabama Community College System, State of Alabama, Alabama Power and the Economic Development Partnership of Alabama.
Activity Sponsors: AIDT, TrnsfrVR
Industry sponsors include Adtran, Airbus, C Spire, Honda Manufacturing, Mercedes-Benz International, Shipt and University of Alabama at Birmingham.
ALEX: The Alabama Experience will be open to the general public:
July 7-13: 1 p.m. – 8 p.m.
July 14: 1 p.m. – 4:30 p.m.
July 15-17: 1 p.m. – 8 p.m.
The air-conditioned ALEX tent will be located at the corner of 9th Avenue North and Richard Arrington Jr. Boulevard.
For more information, please visit www.alabama-experience.com.
Follow ALEX on Facebook and Instagram for updates throughout The World Games and beyond.
About ALEX: The Alabama Experience
ALEX: The Alabama Experience is always on the move, showcasing the state of Alabama, and everything the state has to offer. Alabama has a personality. One that most people, who've never visited the state, almost always underestimate. It's more welcoming than people expect. It's more beautiful than they realize. It's more progressive than they imagine. It's a place full of surprises that's easy to fall in love with. ALEX exists to promote Alabama's career, educational, lifestyle and overall work-life balance opportunities.
###
Media Contact: Audrey Ferguson
Phone: 812-760-1343
Email: aferguson@edpa.org
Learn more about the
Industry in Alabama
Subscribe To Our Newsletter