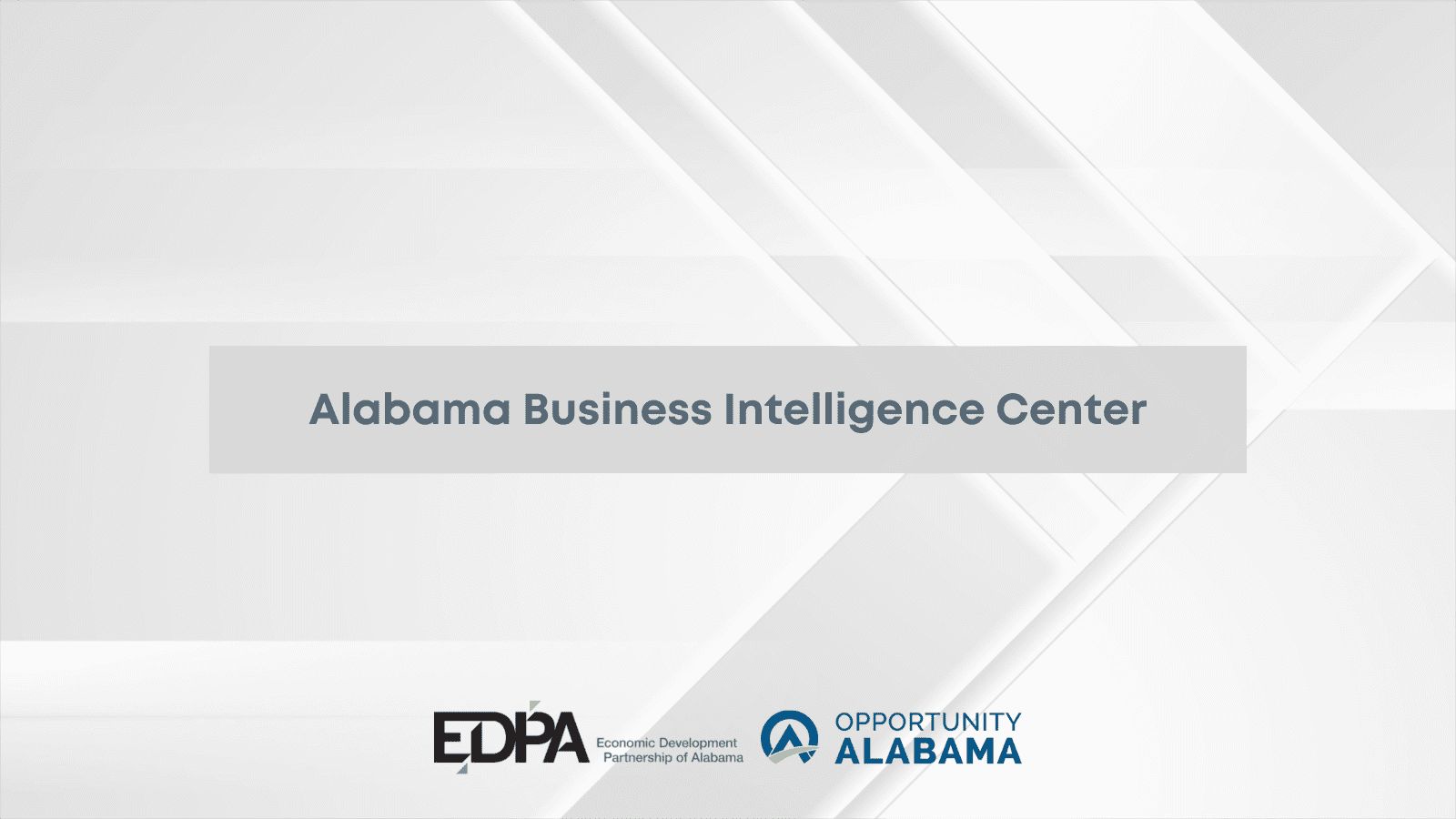 The Alabama Business Intelligence Center Expands and Hires Director Research
Feb 17, 2023
BIRMINGHAM, Ala. (Feb.17, 2023) – The Alabama Business Intelligence Center (AL BI Center) is pleased to announce its expansion, hiring Jacob Lamb as its Director of Research. Lamb will help build capacity for research activities, support the Alabama Alumni Initiative, assist with corporate due diligence requests, cover insights on public companies doing business in Alabama, and track key trends for target industries in the state.
AL BI Center, led by Executive Director, Lauren B. Hyde, exists to increase business development leads, position Alabama as a partner for business growth and investment,  collaborate with allies and partners to unlock insights from the combination of quantitative and qualitative information, and strengthen partnerships through intelligence and resources. It augments EDPA's partners' current work and further positions Alabama's value proposition.
"I could not ask for a better teammate than Jacob," stated Hyde. "His skill set expands the Alabama Business Intelligence Center's research capabilities and builds upon a solid foundation. I am excited not only to add to the Business Intelligence Center, but also to retain top talent in Alabama."
Lamb is an Economics Ph.D. candidate at Clemson University, defending his dissertation in May 2023 to earn his doctorate. With a B.S. in Economics from Auburn University, he is a National Merit Scholar, recipient of the Tollison Fellowship by the John E. Walker Department of Economics at Clemson University, former Graduate Assistant within the Department of Economics at Clemson and more.
"I am honored to join the Alabama Business Intelligence Center as Director of Research," stated Lamb. "I am excited to work with Lauren and contribute to the wonderful work AL BI Center is doing in my home state of Alabama. AL BI Center is truly a one-of-a-kind Business Intelligence center that is having an immediate, powerful impact on the state of Alabama, and I cannot think of a better place to begin my career in research."
In the first eight months, AL BI Center has established company and executive research processes, built an interactive data map to support Alabama communities' access to data to be used to help access funding and/or investment, and supported important business development and lead generation initiatives.
Focused on improving investment in the state, AL BI Center works closely with Opportunity Alabama (OPAL) to improve data access for distressed and underserved communities, supporting OPAL in its mission to transforms Alabama's communities through private investment in physical spaces and places.
"In a short amount of time, AL BI Center has become a critical resource for OPAL, building our capacity to underwrite deals for potential investment and securing critical data for communities in our Community Growth Accelerator program," stated President & CEO of OPAL, Alex Flachsbart. "We're excited to see the Center grow and bring on someone of Jacob's caliber."
AL BI Center will begin industry research in the latter half of 2023. Lamb's research interests will help answer big questions around market competition, capacity for new entrants and why firms choose to locate in Alabama.
"We are excited to add Jacob to the AL BI Center team," stated President of EDPA, Greg Barker. "His education and experience will enable AL BI Center to continue to scale our efforts to identify specific risks and opportunities facing Alabama's economy."
For more information on the Alabama Business Intelligence Center, please click here.
About EDPA
EDPA is a private, nonprofit organization, supported by more than 60 Corporate Partners. EDPA is governed by a board of directors, comprised of the state's top business leaders, committed to the economic growth of Alabama. It supports economic development research, workforce development, talent retention and attraction, innovation and entrepreneurship, policy, lead generation and emerging businesses and community development initiatives. EDPA is the private sector's means for contributing to Alabama's economic development success. Its unique structure allows it to work closely with state, regional, corporate and local organizations. In addition, it helps innovative startups and entrepreneurs Start, Stay and Grow in Alabama through Alabama Launchpad, which is a program of the Economic Development Partnership of Alabama Foundation. Other programming includes ALEX The Alabama Experience and FuelAL.
###
Learn more about the
Industry in Alabama
Subscribe To Our Newsletter